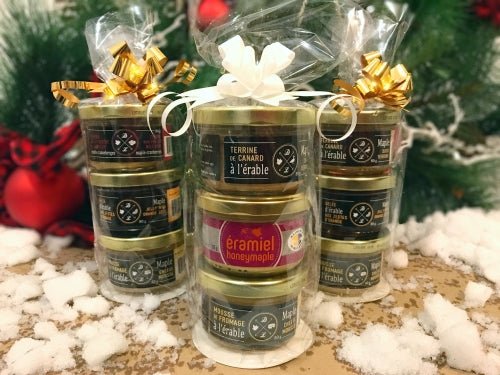 Four good reasons to give a maple product as a gift!
What a marvelous pretext for the holiday season which is approaching whether we like it or not to talk to you about our maple products. The traditional maple syrup will undoubtedly be part of some maple sugar pie recipes, welcome cocktails, etc., but there are so many other products that we want you to discover, and above all, to spread our little sweet treats! sucrés! 
 Here are the four best reasons to offer a maple product to our loved ones:s : 
1- LOCAL PURCHASE
The first reason was obvious. Since local purchasing is at the heart of our concerns, we might as well raise awareness among those around us and adhere to it by offering products magnificently made in Quebec. A local touch to your little attentions will be even more appreciated in the short term. 
2- GOURMET
Basically, giving a gift that is eaten is a great pleasure. A personalized gift for all gourmets and epicureans is so pleasant to give and to taste. In addition, who says Maple often says greed! Yum!!
3- STAND OUT
How to stand out from the crowd and avoid falling for the clichés of the bottle of wine and the gift card! This is where our fine maple products come in. It is important to give a gift that we have carefully taken the time to find out where it came from, where it was made, etc. All the more so when we offer it to someone who is close to our hearts. When the time comes, we create wonderful memories and beautiful exchanges and that is very precious and will ensure that we will remember it for a long time! Nothing prevents it from being accompanied by a nice bottle of wine or a maple gin! à l'érable! 
4- QUALITY
All of our products are undoubtedly the best in the world, there is no longer any need to prove this, but it remains our guarantee of quality, we are very proud of it. So, if the opportunity arises to share our products with those around you, let them see for themselves! Each product is meticulously handcrafted. Hours of work to arrive at a product that is perfect for us, with each order.. 
Do not wait and stock up, you are not looking for a gift from a hostess, deductor, teacher, colleague, close friend!rès! 
We will be ready to meet you: The Christmas Finds Show at the Juvenat Notre Dame du St-Laurent St-Romuald Sector from November 22 to 24n  
It's a date!