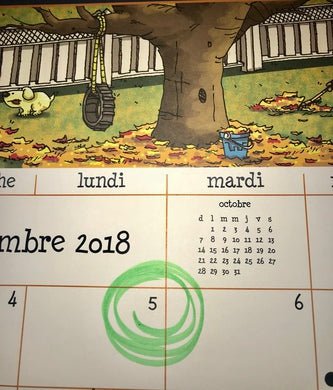 Autumn
Sitting down having a coffee, I was wondering what subject I was going to talk to you about this time. We have to admit that the months of October and November are not as exciting as the others.s. 
It's actually a lot of preparation for the holiday season..
And that's where I found, I'm going to tell you about the holidays !!!!!!
Because I don't know if you noticed but we don't make any mention of Christmas until November 5th! But why so?
One of the reliefs was born on November 4th, and there is an unwritten law that states that we do not talk about Christmas before his birthday! As we adore it, we respect that.a.
Is this bad marketing, we don't know. If we look around us, the holidays are already well established in some stores for some time, especially those that sell stuff for less than 3, they are almost on Valentine's Day.n 😉)
Anyway, what do you think? When is the best date to start talking to you about Christmas?el?
And above all, we will have a new product, just for Christmas, in limited quantities, but that I did not tell you because it is October 24th. We'll talk about it again on November 5th!mbre!